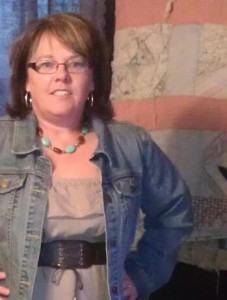 Letter from the President
Fall 2013
It is hard to believe it is already Fall, my favorite time of the year. Thanksgiving and Christmas are coming up soon. This is the time for families to come together. It is a good time to talk ancestry and get the stories down that your grandparents or parents tell. I wish I had done that before I lost my grandparents and my parents.I waited too late to even care where I came from, and now I regret not paying more attention to the stories my grandpa Will used to tell us,, that I used to think were boring!!! Now every time I pass the road, Stanley Carr Sub Dr., the stories Pa told about him and Stanley going hunting pops in my head. It's funny how something you think is boring when you're younger is a great memory when you're older. So, if you are lucky enough to still have your parents and grandparents, break out the old tape recorder.
Thank you for electing me as your new President. I hope we have a good year and recruit some new members. I have a couple of ideas for that which we will go over at the meeting. I want to get more counties involved by attending some of their meeting and approaching the historical societies. I want to maybe partner with the schools and get more kids involved, which in turn, maybe, will get to their parents. Maybe sponsor a genealogy contest for the kids that are taking Tennessee History. Then publish the winner in the Researcher. We need to get back to our motto, "Promote genealogy and preserve the history of the Upper Cumberland." I am open to any ideas anyone has; just shoot me an e-mail or call me anytime. I want to thank Eunetta, Faye, Sharon, Claude Ann, Mary. and everyone else for all the hard work they do. Mike. thanks for being a great President for the past years and for your faith in me. This goes to show what the
UCGA is all about connecting. Mike and I are 2″d cousins and had never met before I joined, and now we have shared so much info and family pictures. I look forward to seeing everyone at the meetings. Faye has some great speakers lined up for us.
You do not want to miss the December meeting. Dr. Walker will be there, and I can assure you it will be worth the time to come out. I want to wish everyone a Happy Thanksgiving and Merry Christmas. I will leave you with some verses from one of my favorite song. Pioneer by The Band Perry. It always makes me think about what my family pioneers were thinking when they made their journey to Tennessee. It makes me want to tell their stories and document their journey.
Oh pioneer, I sing your song, it's the hymn of those who've gone before and those who carry on.Pioneer, your work is hard, but the future of us all rests on the shoulders of your heart. Where are we going, oh I don't know but still I've got to go. What will become of us, oh I don't care. All I know is I'll go anywhere. Oh pioneer so young and brave. Be careful of the souls who doubt you along the way. Oh pioneer so young and brave. Be careful of the souls who doubt you along the way. Your orphaned child. Your mother is adventure and your father is the wild. Oh pioneer let your heart not be troubled.
Theresa Dover White
UCGA President
theresawhite@hotmail.com
(931) 239-4624