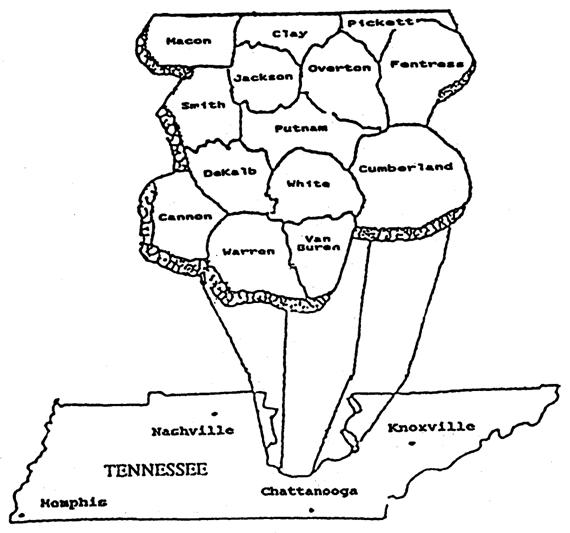 President                     
Vice President:            Guy Zimmerman
Recording Secretary:   Mary Jo Meyer
Treasurer :                    Faye Curry
Circulation Manager:   Euneatta Jenkins     
Program Committee:  Mary Jo Meyers, Guy Zimmerman , Claude Anne Burton,  John Buck, Larry Meyers           
Researcher Publisher: Nancy Fitzpatrick
 Web Site:   Guy Zimmerman
Board Members: Jim Loftis, Overton Co., Guy Zimmerman, Putnam Co., Mike Bonial, Cumberland Co., Carter Harris, Davidson Co., David Starnes, Putnam Co.
The UPPER CUMBERLAND GENEALOGICAL ASSOCIATION, INC meets on the second Saturday of each month at 2 p.m. in the meeting room of the Putnam County Library, Cookeville, TN (unless otherwise arranged in advance).  Membership is $15.00 per year in the U.S. (See inside back cover for late renewals).
The Upper Cumberland Researcher is published quarterly (Spring, Summer, Fall and Winter) at P.O. Box 575, Cookeville, TN 38503-0575.  A subscription is included in the annual membership fee.  Back issues may be obtained from the Association.  Articles for the Researcher are welcomed and can be submitted to Jamie Coburn,- jamielynncoburn@yahoo.com
UCGA members and friends are urged to submit materials of genealogical and historical interest for publication in The Upper Cumberland Researcher.  All articles and manuscripts should be documented and the person submitting materials for publication assumes responsibility for the accuracy and validity of the submission.  While all information will be considered, there are no guarantees that all items will be used.  Permission must be included from original author or author's family.
QUERIES:  Publication of queries is free to all members without limit, and will be published as space permits.  Use a separate sheet of paper for each query, and write clearly and concisely.  Give information in your query to identify your particular lines, including dates, locations, county, state, civil district, township, etc.  This area is comprised of many different families with the same surname.  Please be sure to include your name, address, and email address, if available, with each query.
Address all correspondence, queries, and requests for back issues, articles, dues to:
EMAIL  info@ucga.info
UPPER CUMBERLAND GENEALOGICAL ASSOCIATION, INC.
P. O. Box 575
Cookeville, TN   38503-0575